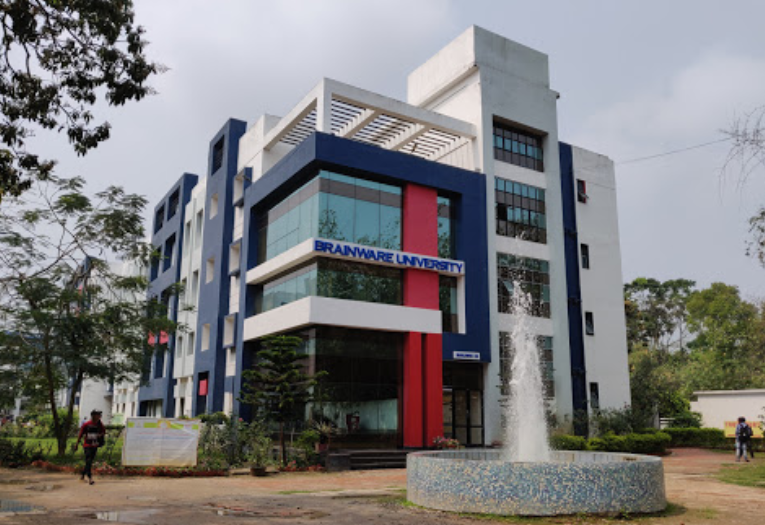 Brainware University is the brainchild of Mr. Phalguni Mookhopadhayay's prolonged effort. Built on a lush and expansive 9-acre campus at Kazipara Barasat, the university is at a stone's throw from the nearest bus stop at Chaapadali. Brainware University, formed by a Gazette Notification of the Govt. of West Bengal (The West Bengal Act XXXI of 2015 for Brainware University) is one of the leading UGC approved private Universities in West Bengal, providing 50+ programs in graduate, postgraduate and Ph.D. subjects at affordable rates.
It is a University offering specialized programs in Engineering, Biotechnology & Biosciences, Management & Commerce, Law, Pharmacy & Allied Health Sciences, Computational & Applied Sciences, Communication, Multimedia & Media Science, English as well as Diploma courses in an array of subjects. The University also provides a student-centralized service in terms of accommodation, social space, and other relevant facilities. The university houses more than 180 faculty members. Our esteemed teaching faculty comprises renowned research scholars and academicians of the leading institutes across India.
We provide a state-of-the-art infrastructure in modern teaching equipment, laboratory facilities that includes multimedia lab, electronics lab, computer lab, pharmaceutical lab, Optometry Clinic, and Lab, Medical Laboratory Technology Lab, Medical Radiology & Imaging Technology -Lab, Health Science Lab, Language lab, Moot court, and other labs, a well-stocked central library, tutorial, career development center, counseling and a host of other opportunities to render a wholesome learning experience to our students. At Brainware University we believe in delivering quality education through interactive learning and extra-curricular activities, as we continually strive for a moral and academic enrichment in creating future scholars and professionals
Vision Brainware University will cast a transformative light on society and students by promoting quality education and research facilities. It will bridge the gap between academic intellect and professional proficiencies by making the approach to education more analytical, thorough, job-oriented, skill-based and as per industry requirements. It will also enable the students to pursue higher studies through research based activities and contribute towards an all-encompassing development of the nation.
Mission Offers diverse and interdisciplinary courses to promote an overall growth of the students. Imparts quality education through modern and updated technology that not only enhances the students' theoretical knowledge base but also their technical skills. Imbibes ethical values and a deep humanitarian concern among the students and faculty members for their all-round development

University Name
Brainware University, Kolkata
College Status
Recognized
Address
Brainware University, Kolkata 398, Ramkrishnapur Road, Barasat, Near Jagadighata Market, Kolkata, West Bengal 700125
Website
https://www.brainwareuniversity.ac.i