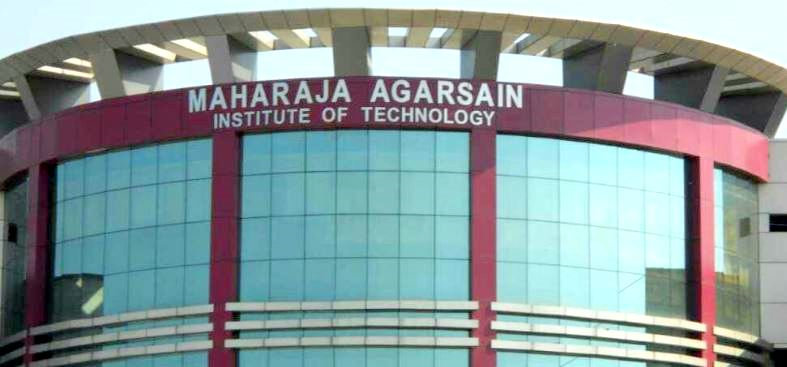 Maharaja Agrasen Institute of Technology was established in 1999 byMaharaja Agrasen Technical Education Society promoted by a group of well known Industrialists, Businessman, Professionals and Philanthropists with an aim to promote quality education in the field of Technology and Management. Since then, MAIT has grown from strength to strength to emerge as one of the top technical institutes among the private Institutes and has been constantly ranked amongst the top engineering Institutes by DATAQUEST.
The institute began its first batch of 180 B.Tech. students in 1999 and at present, MAIT offers Bachelor's Degree in 5 disciplines of Engineering - Computer Science and Engineering (240 students intake), Electronics and Communication Engineering, Electrical and Electronics Engineering, Information Technology, Mechanical and Automation Engineering (180 students intake each), Mechanical Engineering, Computer Science & Technology and Information Technology and Engineering (60 students intake each) and Postgraduate degree in Master of Business Administration (180 students intake). The Institute is approved by All India Council for Technical Education and affiliated to Guru Gobind Singh Indraprastha University, Delhi. MAIT's campus comprises of 10 blocks including Admin Block with Wi-Fi connectivity, well equipped modern laboratories, an intellectually stocked Learning Resource Centre with books and E-Resources, Boys Hostel, Gym and Auditorium. To build lasting relations with Industries, MAIT invites industries to join hands in fulfilling the social responsibility of imparting industry relevant technical education and training. Its alumni have also distinguished themselves through their achievements in and has been contributing significantly to industry, academics, research, business, government and social domains. The institute continues to work closely with the alumni to enhance its activities through interactions in academic and research programmes. The overall environment in the institution is highly conducive for growth and provides a quality learning atmosphere for students that promotes culture, sports, societal contributions, art, self-governance and human values.
Vision To nurture young minds in a learning environment of high academic value and imbibe spiritual and ethical values with technological and management competence.
Mission The Institute shall endeavor to incorporate the following basic missions in the teaching methodology: Engineering Hardware – Software Symbiosis Practical exercises in all Engineering and Management disciplines shall be carried out by Hardware equipment as well as the related software enabling deeper understanding of basic concepts and encouraging inquisitive nature. Life – Long Learning The Institute strives to match technological advancements and encourage students to keep updating their knowledge for enhancing their skills and inculcating their habit of continuous learning. Liberalization and Globalization The Institute endeavors to enhance technical and management skills of students so that they are intellectually capable and competent professionals with Industrial Aptitude to face the challenges of globalization. Diversification The Engineering, Technology and Management disciplines have diverse fields of studies with different attributes. The aim is to create a synergy of the above attributes by encouraging analytical thinking. Digitization of Learning Processes The Institute provides seamless opportunities for innovative learning in all Engineering and Management disciplines through digitization of learning processes using analysis, synthesis, simulation, graphics, tutorials and related tools to create a platform for multi-disciplinary approach. Entrepreneurship The Institute strives to develop potential Engineers and Managers by enhancing their skills and research capabilities so that they become successful entrepreneurs and responsible citizens.
Courses offered by Maharaja Agrasen Institute of Technology - [MAIT]
Engineering Computer Science & Engineering
Electronics & Communication Engineering
Electrical & Electronics Engineering
Information Technology
Mechanical & Automation Engineering
Mechanical Engineering Sciences
Applied Sciences
Management
MBA

University Name
Guru Gobind Singh Indraprastha University, [GGSIPU] New Delhi
College Status
Recognized
Address
Maharaja Agrasen Institute of Technology PSP Area, Plot No. 1, Sector-22, Rohini, Delhi-110086 INDIA
Website
https://www.getmyuni.com/