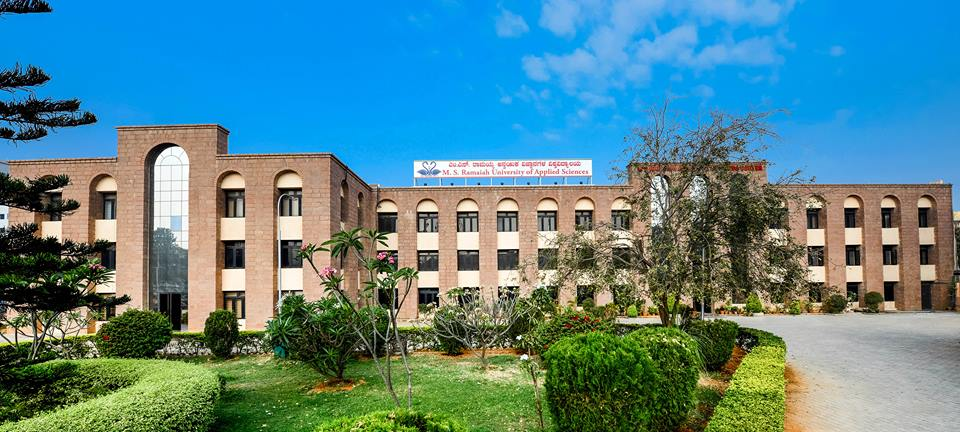 MS Ramaiah University of Applied Sciences (MSRUAS), Bangalore is a private university established by Karnataka State Act in 2013. It is sponsored by Gokula Education Foundation (Medical) trust.  It is recognised by the University Grants Commission (UGC) and also a Member of the Association of Indian Universities (AIU).  It offers undergraduate, postgraduate and doctoral programmes in varied fields such as design, pharmacy, dental surgery, hotel management, science, dialysis therapy technology, medical radiology, physics, chemistry, maths, technology, etc.
Faculty of Engineering and Technology offers undergraduate, postgraduate and doctoral programmes in Engineering and Technology areas.
B.Tech
Electrical and Electronics Engineering
Mechanical Engineering
Civil Engineering
M.Tech
Aerospace Engineering
Automotive Engineering
Structural Engineering
Innovation Centre in Bio-Medical Engineering
The main objectives of this Centre are:
To develop


Biomedical Devices and Systems for health monitoring
Implants and Prosthesis s
Biomedical devices to assist health care professional for surgical operations and rehabilitations (pre, post and during operations)
Virtual models for visualisation by clinicians to plan surgical operations and 3D printing of medical models
Healthcare mobile apps
Futuristic technology products for health care

To patent the technologies developed
To Commercialise the patents through Biomedical companies
Action Plan
Location of Centre


Will be located in the University House
Will be jointly owned by RUAS and GEF-Medical

Creation of a Governing Council
Appointment of Chief Technology and Product Commercialisation Officer
Appointment of Engineering Staff
Identifying Principal Advisors
Organising Group Meetings
Developing product development and commercialisation Route Map for the next five years
Planning of Resources and Commissioning of Resources
Inauguration of the Facility
Start of Operations

University Name
MS Ramaiah University , Bangalore
College Status
Recognized
Address
University House, Gnanagangothri Campus New BEL Road, M S R Nagar, Bangalore Karnataka, INDIA - 560 054.
Website
http://www.msruas.ac.in/academics/engineering_technology