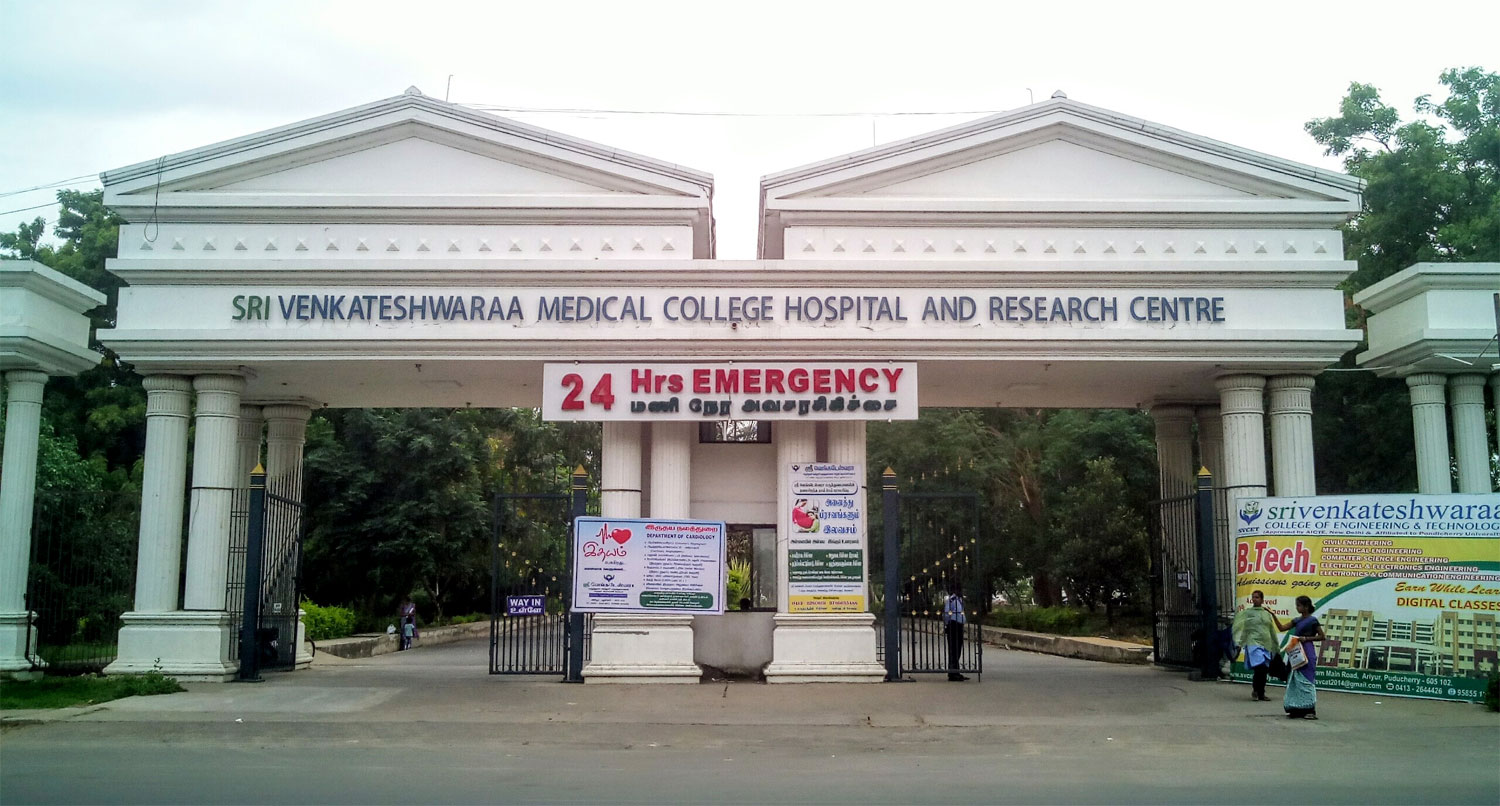 SV Medical College (SVMC), Tirupati will be hosting the 14th International Conference on Geriatric Care and Gerontology on October 1 and 2. Apart from SVMC, SVR Ruia Government General Hospital, Alumni Association of SVMC and Geriatrics Society of India, jointly organising the conference. Briefing media here on Friday, SVMC Principal Dr NV Ramanaiah said the diseases, which the elderly people may prone to get and their needs would be discussed in the conference. Of late, the life expectancy rate has gone up to an average of 65 years and the elderly population were increasing worldwide. Both youth and senior citizens experiences must be clubbed together to enter the new era, he opined. He said it was a rare opportunity for SVMC to organise such a prestigious event after hosting the conference in 2016 in Delhi.
 Alleviating human suffering has been a part of dedicated services of Tirupati Tirumala Devasthanams to the mankind. To provide the most advanced medical technology to the needy, the T.T.D. has launched a monument, a blessing from the Lord by opening Sri Venkateswara Institute of Medical Sciences, a sophisticated super specialty hospital at Tirupati.
SVIMS was conceived in the year 1986 on the lines of AIIMS, New Delhi and the foundation stone was laid on 18.4.86 by Late Sri.N.T.Rama Rao, the Hon'ble Chief Minister of Andhra Pradesh in the world famous pilgrim town Tirupati. It was established with a view to providing Super Specialty facilities with nominal cost to the poor.
The hospital started functioning from 26.2.93. by an Act of A.P. State Legislature. This Institute became a University in 1995 within a short time of establishment. The Present Director is Dr. B.Vengamma, MBBS, DM (Neurology) (NIMHANS, Bengaluru), FRCP (Edin),  FAMS, FICP, FIAN, PG Dip in Epidemiology (PHFI-IIPH)
 
The healing touch of SVIMS has covered most of Andhra Pradesh and the neighbouring states. The major objectives of SVIMS includes service, training and education in advanced medical sciences and technology. Latest technology in diagnostic wing and total computer automation of patient care has been implemented in this institution for the first time in our Country. The computer centre is equipped with medical literature analysis and retrieval system on line (MEDLINE) to get the information available from standard medical journals in the entire world. SVIMS also introduced "MEDLARS" awareness programme, which is a boon for all the students and medical personnel. Both inpatients & outpatients have increased by 75% to 100% in recent years.
The following departments are rendering their services for the public:
Anaesthesiology, Anatomy, Biochemistry, C.T.Surgery, Cardiology, Endocrinology, Gyanecology & Obstetrics, General Surgery, Hematology, Medical Gastroenterology, Medical Oncology, Medicine, Microbiology, Nephrology, Neurology, Neurosurgery,  Nuclear Medicine , Pathology, Physiology, Radiology, Radiation Oncology, Surgical Gastroenterology,  Surgical Oncology , Transfusion Medicine and Urology.
The Department of Cardiology possesses the state-of-the art biomedical equipment and a set of dedicated doctors and paramedical staff to provide a high quality treatment to its patients. It has an intensive coronary care unit with facilities for invasive haemodynamic monitoring, an echo-cardiography machine having biplane transoesophageal probe (along with facilities for colour flow mapping), several computerised ECG machines, a computerised treadmill machine, Cardiac catheterization and angiography, temporary pacemaker implantation, permanent pacemaker implantation and balloon atrial septostomy in neonates, have been done. The department is regularly doing coronary angioplasty and various valvuloplasty procedures. Radio frequency ablation procedures are the recent addition in catheterization laboratory. The Department of Cardio Thoracic Surgery the state-of-the art biomedical equipment and a set of dedicated doctors and paramedical staff to provide a high quality treatment to its patients. The major achievements of C. T. Surgery department ever since its inception in SVIMS. is the versatility of operations being done here. The entire spectrum of surgical diseases of Chest are being attended to this institution. This includes Complex Cardiac Surgery, Simple Cardiac Surgery all forms of Thoracic Surgery, Chest trauma and all forms of Thoracic Endoscopies. The post operative management always received consultants level care. In Cardiac Surgery - Coronary Artery Bypass Graft surgery, all forms of valve surgery and all forms of complex congenital heart surgery in the very early months of life are being under taken. Many of the cases we have taken up are redo operations and are very sick ones some times denied of surgery in peer institutions. In that sense, for a new institution we have not shirked away from high risk cases as far as any form of Cardiac Surgery is concerned. We have also been actively involved in making our institute a model teaching institution. We have been co-operating actively with sister department.
The Tirumala Tirupati Devasthanams brings one of the holiest of offerings ever Pranadanam - a scheme blessed by everything the Lord Himself stands for Sri Venkateswara Pranadana Trust aims at providing succor to the needy and suffering by offering them free and the best medical care at the T.T.D. run hospitals. The pranadanam scheme is aims at to providing free medical facilities to the poor patients affected with life threatening diseases of the Hear, Kidney, Brain and Cancer etc. The pranadanam Trust is launched by Sri.N. Chandarababu Naidu, Hon'ble Chief Minister of Andhra Pradesh in the month of Sept. 2001. So far we have successfully carried out 225 surgeries / treatment to the poor & needy patients in and around Rayalaseema Region with 100% free of cost under this Pranadanam Scheme.
The Institute is offering donations from the public Income Tax exemption under Section 80(G) to meet the expenditure under the noble cause of Pranadanam Scheme.
The Institute is offering the services of expert surgeons of Dept.of Cardiology, Cardio Thoracic Surgery, Neuro Surgery, Nephrology and Oncology to perform the surgeries of the poor patients with free of cost in the name of Lord Venkateswara during your visit to Tirumala aiming with Manavasevae - Madhavaseva.
Objectives of the Institute
Ø   To create a centre of excellence for providing medical care, educational and research facilities of a higher order in the field of medical sciences in the existing super specialties and such other super specialties as may develop in future, including continuing medical education and hospital administration.
Ø   To develop patterns of teaching in post-graduate level and in super specialties so as to set a high standard of medical education.
Ø   To provide for training in para-medical and allied fields, particularly in relating to super specialties.
Ø   To function as a referral hospital.
Ø   To provide for post-graduate teaching and conduct of research in the relevant disciplines of modern medicine and other allied sciences, including inter-disciplinary fields of Physical and Biological Sciences

University Name
NTR University of Health Sciences, VijayWada
Annual Intake (Seats)
240
Permission Date
21.06.2019 under EWS
Address
Tirupati Tirupati
Website
http://www.svmedicalcollege.org/