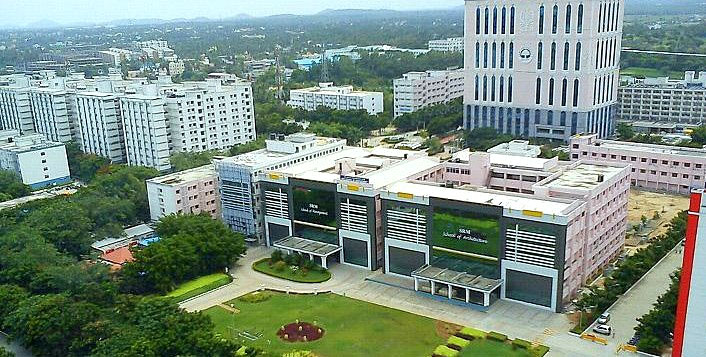 SRM University is situated in Chennai in Tamil Nadu state of India. Established in 1985, it is accredited from UGC,NAAC, MHRD, ABET and it is affiliated to SRM University. SRM University functions at four campuses Kattankulathur,Ramapuram, Ramapuram Part II (Vadapalani), NCR. SRMU offers 196 courses across 11 streams namely Medical, Management, Law, Engineering, Design, Arts, Mass Comm, Hospitality etc. Over 150 students were sponsored to 35 foreign universities like MIT, Carnegie Mellon, Warwick and Western Australia. SRMU campus is spread over 250 Acres. Hostel facility is available for its students. Additional campus facilities such as Audi, Canteen, Gymkhana, Lib, Medical Fac., Cls. Room, Placement, Sports, Club, Laboratories are also there.
SRM University welcomed 469 companies that offered 5684 jobs to students in 2016-17. Google, Microsoft, Amazon, Siemens, Hyundai Motors, Fuji Xerox (Japan), Bank of America, Honda, SAP Labs, Michelin, CISCO, Shell India and Vestas and international offers, from Fuji Xerox, YKK, NEC Japan are few companies.
SRM University (Sri Ramaswami Memorial University) is a renowned Private University in India that offers undergraduate courses, postgraduate courses and doctoral courses in various disciplines. The institute was established in the year 1985 as SRM Engineering College and was later given Deemed status in the academic year 2003-04, and the name of the institution was changed to SRM Institute of Science and Technology. In the year 2006, the institute gained the full-fledged University status by the Univesity Grants Commission under UGC Act, 1956.
SRM University Chennai, Kattankulathur campus is ranked as one of the best private engineering university. Formerly known as SRM Institute of Technology, it has been granted the status of a full-fledged University in the year 2006. The SRM University is one of the largest private university in India with a population of over 38,000 students across its 7 campuses. Know About SRM University Kattankulathur Admission 2019 Check SRM University Kattankulathur SRMJEEE Cutoff SRM University is particularly known for its courses in Engineering and Technology branches. In the past few years, the SRM University has maintained its spot in the top engineering colleges in India. With campuses in Northern India too, the SRM University has fulfilled the purpose of imparting quality education to students from across the country.
SRM University Campuses
SRM University Kattankulathur Admission
The SRM University generally conducts its entrance exam known as SRMJEE (SRM Joint Entrance Exam) for admission. SRM University Admission process for its entrance exam (SRMJEE) starts from the month of March to April every year. The University conducts entrance test for Admission To B.Tech.,and MBA Courses. Admission to SRM UG medical courses is on the basis of marks scored in NEET Exam. The admission to other UG and PG courses is usually merit-based. The application process for SRM University is both online and offline.
For comprehensive details regarding the course-wise admission process, eligibility and important dates, students may go through the links which are mentioned below:
SRM University Kattankulathur Application Fee The application fee for SRM University application form can be paid both online and offline. Online payment can be done by using a valid debit and credit card. In case of offline payment, it can be done through a DD drawn in favor of SRMIST, Payable at Chennai.
Check SRM University Kattankulathur Courses Fees Structure
SRM University Entrance Exam SRM University conducts entrance exams for admission to its various courses. The admission tests are conducted separately for different branches of study.
SRMJEEEE SRMJEEE Or SRM Joint Engineering Entrance Exam is conducted for admission to B.Tech. programs offered at SRM Group of Universities. The minimum eligibility requirement for applying to SRMJEEE is 10+2 in science stream with a minimum of 60% marks.
Know More SRMJEEE Important Dates, Eligibility, Application Process
SRMCAT The University conducts SRMCAT for admission to the MBA program offered at the SRM University Campuses. The minimum eligibility to apply for SRMCAT is a graduate degree in any stream with a minimum of 60% marks.
Know More SRMCAT Important Dates, Eligibility, Exam Pattern, Syllabus
SRM University Kattankulathur Scholarships Fee waiver of 50% to students with above 95% in CBSE or in State Board examinations. Founder's Scholarship-full waiver of tuition, books, hostels, and mess, plus a stipend of Rs. 1,000 per month to top state, SRMEEE, and JEE Main Main rankers, sportspersons and socio-economic disdained.
The institution provides scholarships to students on merit as well as need basis. Scholarships names are given below:
Merit Scholarship: Fee waiver of 50% for students with above 95% in CBSE or in State Board examinations.
Founder's Scholarship: Full waiver on books, tuition, hostels & mess, plus a stipend of Rs.1, 000 per month to top state, JEE, SRMEEE & AIEEE rankers, sportspersons and socio-economic disdained. Merit-Cum-Means Scholarship: 25% to 100% tuition fee waiver is provided to students who are economically challenged based on their performance in the qualifying examination. Scholarships For Special Merits: Scholarship with tuition fee waivered up to 100% is offered to some of the students owning exemplary skills in literary debating, fine arts, and others.
SRM Institute of Science and Technology conducts their own admission test known as the SRM Joint Engineering Entrance Examination (SRMJEEE). This exam is held every year in the month of April and can be taken only via the online mode of application. SRMJEEE 2020 has been cancelled due to the ongoing pandemic situation and the admissions were based on Board exams. The general paper pattern consists of four compulsory sections including English, Aptitude, Physics and Chemistry. The optional section consists of either Mathematics or Biology depending upon the course chosen during exam registration.[citation needed] As of 2019, more than 170,000 students had appeared for the examination out of which 76,000 were called for counseling.[citation needed] Also, the Permabalur MP and Chancellor of SRM Institute of Science & Technology, Dr T R Paarivendhar has provided free admission to 300 students from his constituency.
Vision:
To emerge as a World - Class University in creating and disseminating knowledge, and providing students a unique learning experience in Science, Technology, Medicine, Management and other areas of scholarship that will best serve the world and betterment of mankind.
Mission:
MOVE UP through international alliances and collaborative initiatives to achieve global excellence. ACCOMPLISH A PROCESS to advance knowledge in a rigorous academic and research environment. ATTRACT AND BUILD PEOPLE in a rewarding and inspiring environment by fostering freedom, empowerment, creativity and innovation.
University Name
SRM University Kattankulathur - [SRM], Chennai
College Status
Recognized
Address
S.R.M. Nagar, Kattankulathur Chennai - 603203 Tamil Nadu , India
Website
https://www.srmist.edu.in/academics/engineering