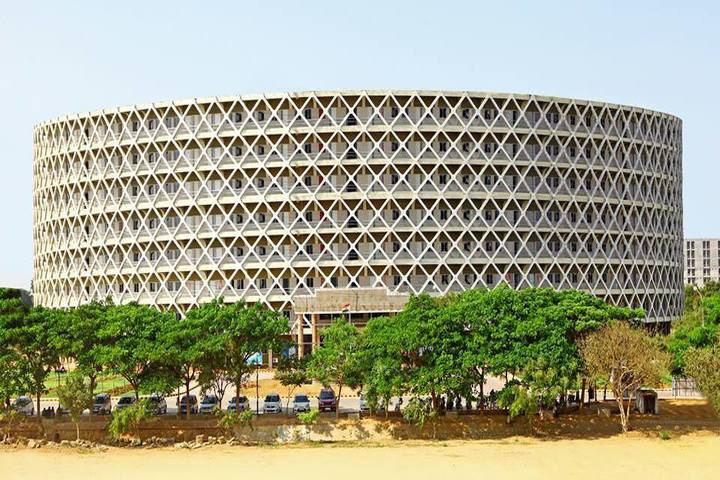 Saveetha Engineering College (SEC), Chennai is an autonomous institute that was established in the year 2001 by Dr. N.M. Veeraiyan, Dentist by profession. SEC is governed by Saveetha Medical and Educational Trust. The institute is affiliated to Anna University, Chennai and is approved by AICTE. The college has a total strength of around 4349 students in 12 UG courses which include streams like Agricultural, Artificial Intelligence & Data Science, Biomedical Engineering, Civil, Chemical, CSE, ECE, EEE, EIE, IT, Mechanical and Medical Electronics, 8 PG Courses including MBA and also 5 Ph.D. courses. The Department of Scientific and Industrial Research (DSIR), Government of India has recognised the college as a Scientific and Industrial Research Organization (SIRO). SEC offers specialisation in Inter/Multidisciplinary courses like Artificial Intelligence, Data Science, Machine Learning, Blockchain, Robotics, Internet of Things, Digital Manufacturing, 3D Printing, AR / VR, Cloud Computing, Cybersecurity, Cyber Forensics, Cryptography, Quantum Computing, Lab on Chip, Organ on Chip, MEMS/NEMS. Apart from these specialisations, Saveetha Engineering College offers transdisciplinary courses like Foreign Languages, Design, Problem Solving, Music, Theatre, Yoga, Dance, Arts, Philosophy, Psychology, Civics, Biology, Humanity, Sports. The college has a staff-students ratio of 1:13. As per the college officials, around 122 faculty are Ph.D. and 152 are pursuing Ph.D. SEC imparts 21st-century skills by industry 4.0 ready curriculum.
School of Engineering has a strong organizational structure headed by a Dean and 7 Associate Deans. Each associate dean has been assigned a portfolio to explore, improve, standardize their areas. We at SSE work together as a family in order to provide the best Teaching - Learning environment, motivating students towards research, to explore the opportunities outside our country, and also to make them a confident, independent professionals.
Saveetha Intstitute of Medical and Technical Sciences always strive to provide the best quality education and research to our students. As a recognition for our hard work, we have been accredited by following organisations.
NAAC
National Assessment and Accreditation Council, an autonomous body funded by UGC, Government of India, assesses and accredits institutions of higher education in India. Saveetha Institute of Medical and Technical Sciences has been awarded with an 'A' Grade by NAAC for its excellence in providing Quality Education. 
NIRF
National Institutional Ranking Framework is to rank all institutions in India with respect to the resources, research, and stakeholders perception. NIRF was launched by MHRD, Government of India and we are proud to announce that Saveetha Institute of Medical and Technical Sciences has been Ranked 43 in the whole country. 
IET-UK Accreditation
Saveetha School of Engineering has received International IET-UK Accreditation. We are the Second in South India and Fourth in India to receive this accreditation. This Accredidation comes under Washington Accord and is widely recognised by Australian Sydney Accord as well. IET-UK accreditation is given based on the quality of curriculum, Teaching learning process and our Assessment policy. The Accreditors have appreciated our Unique Teaching-learning Method MILA (multiple Interactive Learning Algorithm). Since we are accredited by IET-UK, we have joined hands with IET as their Academic Partner.
ISO
Saveetha School of Engineering is certified with the latest quality standard known as ISO 9001:2015 which sets out the criteria for a quality management system.
Departments
Saveetha School of Engineering offers under Graduate, Graduate and Doctoral programmes in the following Departments. Each department is enriched with experienced, dedicated and knowledgable faculty members. With an extra-ordinary infrastructure facilities and with innovative teaching methods like MILA, Flipped Classes,etc., SSE provides the best platform for the students to excel in their academics.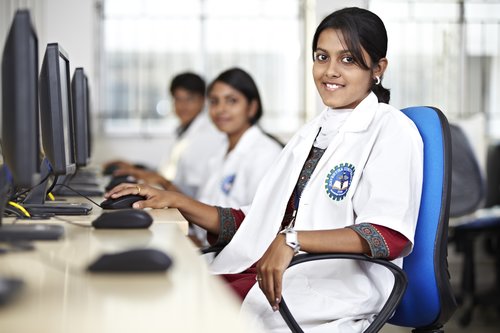 As one of the oldest departments of SSE, it provides an arduous academic milieu to the students. Our strengths are our well dexterous faculty members, who are closely associated with each and every student to nurture and guide them to bring out their academic / other talents. The mentor system which is currently at vogue makes the undergraduate students to carry out a project and to publish the same in a well reputed Scopes Indexed Journal. So far, approximately around 968 papers are published by department undergrads. 
As an interdisciplinary field of science, bioinformatics combines biology, computer science, information engineering, mathematics and statistics to analyze and interpret biological data. Bioinformatics has been used for in silico analyses of biological queries using mathematical and statistical techniques.
Awarded as the Best Department in our University, we strive to educate and mould highly competent Electronics & Communication engineers capable of designing modern communication circuits with diverse applications ranging from electronic system design to wireless communication technology. 
Department of Electrical and Electronics Engineering
A department that imparts knowledge on the functioning of the electrical equipments as well as the electronic devices. This program is designed to create engineering professionals competent to work in a range of industries like telecom, IT, electronics, Power generation etc.,
A fascinating department which deals with the design, production and operation of machines. Our students learn the engineering physics, and materials science principles to design, analyze, manufacture, and maintain mechanical systems. Join our Mechanical team of experts to become a competent professionals to be placed in in providing solutions to the challenges around us. 
Department of Civil Engineering
Department of Civil Engineering strive to become one of the finest departments both in academics and research. To achieve we encourage the students to pursue research activities during the regular curriculum. The department has all basic facilities like soil Mechanics lab, Surveying lab, Applied geology and Structural geology lab which support in helping the student to carry out their research in various thrust areas like Highway & concrete technology and Water & sediment quality studies. To accomplish these labs are equipped with all facilities necessary for carrying out research. To highlight a few the Geology lab has one of the finest collection of more than 200 rocks and minerals specimen and structural geology lab. The hydraulics lab is equipped with the Hydraulic flume which promotes carrying out research in the field of sediment transport.
Bio- Medical Engineering combines the engineering principles in to medical devices and equipments to improve the medical technology that's available today. It is more related to health care industries and the demand for this field is highly in demand. Join us to become a brain behind the medical machines.
Department of Information Technology
The Department of Information Technology focuses on imparting a comprehensive fundamental knowledge in the areas of Computer Programs, Software Engineering and Technology Applications. In order to enhance the core competencies, the IT department provides a ground for advanced research in areas like Data Analytics, Data Visualization, HCI, Cloud Computing etc. 
Department of Energy and Environmental Engineering
EnEE was established with a higher aim to provide solutions to many environmental related issues. We kindle the young minds to be a creative thinkers in providing energy with environmental consciousness. This course gives an insight into Renewable energy, Green Building, and various energy sources . This is a Unique course and is best suited for candidates who wants to redefine the world. Join us to create a better future!
Department of Automobile Engineering
Automobile Engineering deals with the design, function and performance of each and every automotive parts for different vehicles like Trucks, Bus, Cars, Bikes etc. Our University is placed in an industrial zone and we have been sponsored with 2 cars from Hyundai and Ford companies. Students who are highly interested and want to explore more on the insights of bikes and cars are welcome to our department. 
Department of Bio-Technology
Biotechnology is an integration of Technology and Biology especially to foster the R&D to revolutionise the agriculture, genetic engineering, medicine, environment conservation, health care, animal husbandry and many other sectors. This course is designed to impart in-depth knowledge to students pertaining to various areas of biotechnology so as to meet the growing demands of industry and academia. Our Study Flex @ SSE offers students to choose their Course, faculty, and the timing. SSE believes in interactive teaching and our Unique Activity based teaching with Integrated Theory-Lab approach enhances the learning experience of our students. Department not only offers core papers but also provides a wide variety of departmental and interdepartmental electives to enhance their knowledge as well as prepare them to face the new challenges of the world.
Department of Agricultural Engineering
Agricultural engineers use their knowledge to solve the problems of farmers and the agricultural industry. Studying agriculture is like exploring a wide new world of how things work and how impossibilities can be achieved through passion and perseverance. With the advent of technology and recent Governmental endeavors supporting agricultural studies, its scope has widened. The highly-rich curriculum includes food chemistry, plant physiology, agriculture science, water resource management, applications of biotechnology, food processing, etc. 
Vision
To be, and to be recognized for setting the standards of excellence in engineering education and high-quality scientific research.
Mission
To promote academic excellence, widen intellectual horizons, inculcate self-discipline and high ideals for the total personality development of individual. To convert a novice into a competent professional with excellent theoretical knowledge and unsurpassed practical skills and to motivate the interest in the research activities, further education and social services.
Quality Policy
Saveetha School of Engineering is committed to quality through teaching, fostering and intellectual culture that bridges theory with practice and producing holistic graduates prepared for a life of purpose, service and leadership. Saveetha School of Engineering is committed to good corporate governance, excellence, professionalism, freedom of thought in academic inquiry, responsible citizenship, creativity, innovativeness, team work and adaption to change.
University Name
Saveetha University
College Status
Recognized
Address
Saveetha School Of Engineering Saveetha Nagar, Thandalam, Chennai - 602 105 TamilNadu, India.
Website
https://saveethaengineering.com/