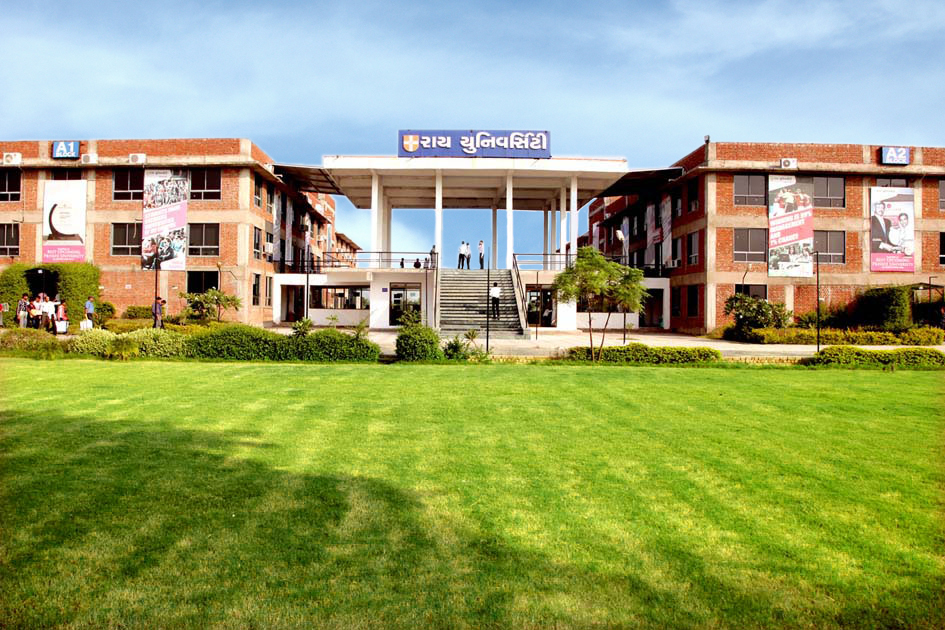 Rai University was established by Gujarat State Legislature under Gujarat Act No. 12 of 2012. Rai University is at the forefront providing Quality Education and committed to upholding societal values through inclusive growth of all related Stakeholders.
Rai University is spread over an environment friendly lush green campus within striking distance of Ahmedabad. Skill oriented curriculum in the disciplines of Engineering and Technology, Management, Life Sciences, Applied Sciences, Pharmacy, Law, Agriculture etc. are being offered at Rai University. Life Skills embedded with Curriculum Knowledge are an excellent blend for shaping an Individual. Rai University thrives to develop thinking mindset, educate, enrich and elevate Students who are globally competent, ethical leaders working and serving in our complex and changing world. Rai University believes in the overall development of the Students and adopts a holistic approach which bring a 360º transformation in the personality of the Students. Curricular and Extra Curricular Development is supported by many other activities which improves leadership skills, managing ability, being part of a team, excel in talents, explore hidden talents and many more. Industry Academia tie up is the need of the hour. Rai University has collaborations with various Industries for imparting Industry relevant concepts and develop skills for meeting the different challenges. Leading Industries have joined hands with Rai University and actively participated in imparting Practical and Corporate Skills.Rai University is a Research Intensive University with focus on quality Research and Publications.
The main focus is on creating a Research Forum consisting of pool of Scholars in related areas which can lead to sharing resources and leading to collaboration between like-minded Scholars. Rai University is providing Research opportunities in Computer Science, Management, Life Sciences, Mechanical and allied disciplines. Department of International Affairs, Rai University has International Collaborations with many renowned International Universities like University of Pardubice, Czech Republic etc. to provide exposure to Students and Faculty through Student Exchange and Faculty Mobility (Erasmus+) program. Rai University is focusing on Outcome based Education and continuous assessment of the Students throughout the year. Feedback from Students, Alumni and Stakeholders are taken regularly and are treated as Key Partners in the Teaching Learning process. Students need support for their overall development and challenges faced by them. Rai University has a strong Mentoring process in place and guide Students not only when they are in the Campus but also after passing out guide the Alumni building a strong relationship and developing a ownership among the stakeholders.Need of the hour is Project based Learning which can empower the Students in meeting future challenges.
Employable Skills and the right attitude is developed in the Students. Innovative Learning practices that ignite the curiosity of the Student fostering an Entrepreneurial mindset. Rai University believes in providing equal opportunities to the underprivileged sections of Society. Extensive Scholarships are being provided to the needy and meritorious Students in addition to the Gujarat Government Scholarships.
Vision:
Driven by applied research, experiential learning and practical training, Rai University envisions and enables vital connections and collaborations among the spheres of academic and research elaboration, industry innovation and community needs, toward achieving greater societal impact, sustainable development and lasting transformation.
Mission:
To promote teaching, training and research in different fields with special focus on the education and upliftment of girls from underprivileged sections in the State of Gujarat; women's education and empowerment is key to sustainability at all levels. To collaborate locally and globally with colleges, universities, research institutions, industry associations, professional associations and community organisations, in order to conceptualize, design and develop specific educational, training, exchange, mentoring and research programs for mutual empowerment and development. To disseminate and develop knowledge through interdisciplinary and multi-stakeholder seminars, conferences, fairs, executive education, publications as well as community contact and development programs. To undertake specific and joint programs toward faculty training and development. To foster ethical and ecological awareness as also build energetic engagement among students to emerge as active leaders and change-makers in diverse segments of society. To work toward bridging rural-urban gaps and encourage village self-sufficiency and enterprise through empowerment and community development initiatives.
Schools of Rai University
Rai Business School (RBS)
School of Engineering & Applied Sciences (SEAS)
School of Pharmacy (SOP)
School of Life Sciences (SOLS)
School of Law (SOL)
School of Arts, Science & Commerce (SASC)
School of Agriculture (SOA)
Centre for Research & Development (CRD)
of English Communication & Life Skills
Collaboration & Association of Rai University
Indian Institute of Technology, Bombay
Society for Creation of Opportunity through proficiency in English (SCOPE)
Indo-US Science & Technology Forum
INFLIBNET
Brahma Kumaris
SAGA Laboratories
Redhat Academy
Okan University, Istanbul
BENHA University
University of Pardubice
IN SUPREME DIGNITATIS
Vali-e-Asr University Rafsanjan
Undergraduate Courses offered by Rai University
Bachelor of Business Administration (BBA) General
Dual BBA+MBA
Bachelor of Technology (B.Tech)
Mechanical
Civil
Computer Science
Information Technology
B. Tech (Lateral Entry)
Mechanical
Civil
Computer Science
Information Technology
Diploma in Engineering
Mechanical
Civil
Computer Science
Information Technology
Automobile
Electrical
Diploma in Engineering (Lateral Entry)
Mechanical
Civil
Computer Science
Information Technology
Automobile
Electrical
Diploma in Pharmacy (D.Pharm)
Bachelor of Pharmacy (B.Pharm)
Bachelor of Pharmacy (B.Pharm) Lateral
Bachelor of Science (B.Sc)
Biotechnology
Microbiology
Bachelor of Law (LL.B.)
B.A. LL.B.
Bachelor of Science (B.Sc)
Physics
Chemistry
Mathematics
Information Technology
Bachelor of Computer Application (BCA) General
Bachelor of Arts (BA)
Bachelor of Commerce (B.Com) Hons
Bachelor of Library & Information Science (B.Lib)
Bachelor of Social Work (BSW)
Bachelor of Science (B.Sc)
Postgraduate Courses offered by Rai University
Integrated MBA (General)
Master of Business Administration MBA
Marketing
Finance
Human Resource Management
International Business
Healthcare & Hospital Management
Digital Marketing
Master of Engineering (M.Tech)
Mechanical
Computer Science
Information Technology
Master of Science (M.Sc)
Biotechnology
Microbiology
Master of Science (M.Sc)
Physics
Chemistry
Mathematics
Industrial Chemistry
Environment Science
Master of Arts (MA)
Psychology
English
History
Hindi
Political Science
Sociology
Master of Commerce (M.Com)
Master of Library & Information Science (M. Lib)
Master of Social Work (MSW)
Doctor of Philosophy (PhD)

University Name
Rai University - [RU], Ahmedabad Gujarat
College Status
Recognized
Address
Rai University - [RU], Ahmedabad Gujarat Saroda, Dholka Taluka, Ahmedabad, Gujarat – 382260
Website
https://www.raiuniversity.edu