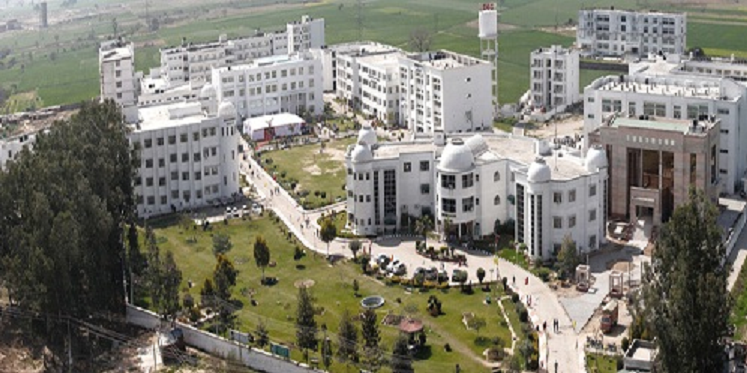 Established in 2012, Chandigarh Group of Colleges, Jhanjeri is an institute that specializes in merging education with technology. We strive to develop new ways of thinking and inculcate the same in our students. Our commitment to free and open inquiry draws inspired students to our breathtaking campus, where ideas are born that challenge and change the world.
Our programs have led the students to develop a great number of breakthrough technologies that have been registered with the Indian Patents Office.
The beautifully designed campus in the foothills of Shivalik has State-of-the-Art infrastructure, and equipment. We possess a highly educated and experienced faculty to groom the students to turn them into world-class professionals who would be ready to meet the global needs of the corporate sector. Special attention is given to the overall development of the students to become ethical and socially responsible citizens of India contributing significantly to India's march towards becoming a global leader.
We generate new insights for the benefit of present and future generations with our laboratories and workshops. We are also invested in extracurricular activities especially the ones which improvise the personality of our students. Hence, we host an NCC unit at CGC which is affiliated with 23 Punjab Battalion, NCC Ropar. We also host NSS brigade which is always on there toes to promote social activities in and around the college. CGC also possesses dance clubs, music clubs, environment clubs, etc to focus on the all-round development of the campus.
CGC takes pride in being the leader of campus placements. We have numerous tie-ups with various National and Multinational companies to provide jobs to the students right before the completion of there courses.
In all we do, we are driven to dig deeper, push farther, and ask bigger questions — and to leverage our knowledge to enrich all human life. Our diverse and creative students and alumni drive innovation, lead international conversations, and make masterpieces. Join team CGC and become the next generation of leaders in academia, industry, and entrepreneurship.
VISION :
Who we are, What we do To emerge as an institution of technical excellence imparting professional education for sustainable development of society
MISSION:
What we aspire to be To provide quality technical education through state-of-the-art infrastructure and well qualified and experienced faculty Having academic flexibility through strong industry academia interactions Focus on students' employability, entrepreneurship, higher education and competitive examination To inculcate ethical and moral values in students
The campus of CGC Jhanjeri comprises of:
Faculty of Engineering
Faculty of Management
Courses Offered of Engineering
Bachelor of Technology (Computer Science & Engineering)
Bachelor of Technology (Electronics & Communication Engineering)
Bachelor of Technology (Mechanical Engineering)
Bachelor of Technology (Civil Engineering)
Bachelor of Technology (AIML)
Applied Science
CGC Jhanjeri offers Several Disciplines of Engineering Including:
UG Programs

University Name
IK Gujral Punjab Technical University
College Status
Recognized
Address
Chandigarh Group of Colleges Jhanjeri, Mohali-140307 (Punjab)
Website
https://www.cgc.ac.in/faculty-of-engineering