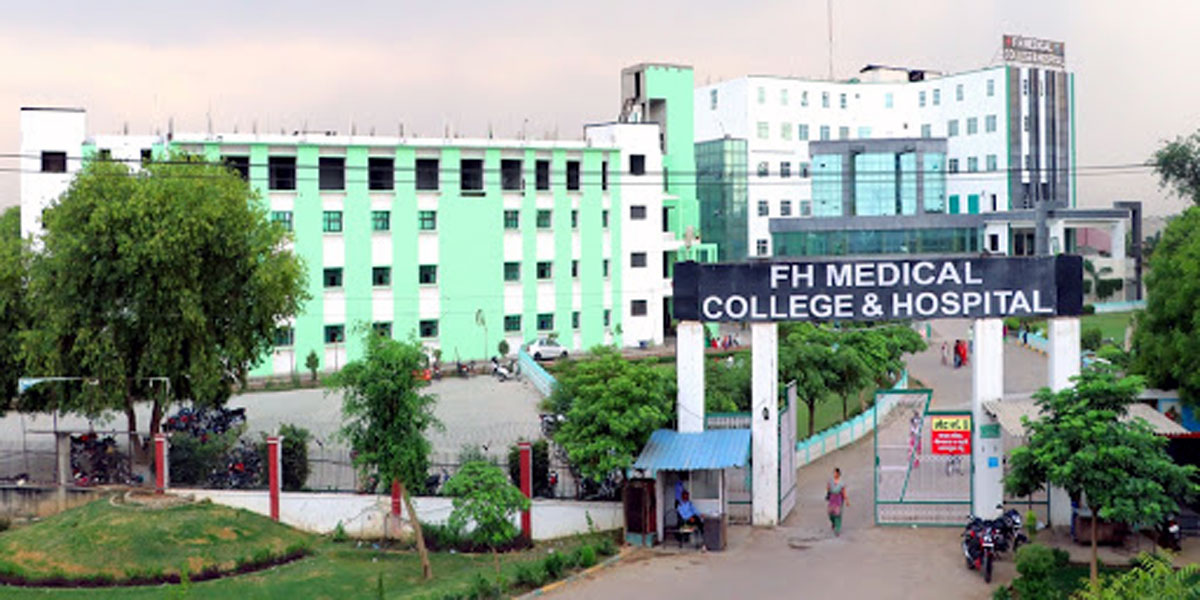 At FH Medical College we cater the needs of students by providing high quality Medical Education and training and we wish the students to develop as a complete Doctor- full of sympathy and empathy for the suffering humanity.
There are two objects of medical education: one is to heal the sick, and other is the advancement of
 science. Our Medical College leverages the scientific capabilities, expertise and resources to provide the medical education fully focused on preparing physicians for the medicine of tomorrow.
We have dedicated and highly qualified teaching faculty members who at every step are ready to counsel the students. An in-built system of continuous internal assessment helps the students to keep abreast with the teaching and self-evaluation simultaneously. Sports and recreational facilities provide the students opportunities to de-stress and relax. Well-equipped laboratories, high-tech state of the art investigative facilities, including CT Scan, and ICU at hospital campus   provide the students with the needed facilities for teaching and training. The central library with a large number of books on varied fields of medical educations, well recognized national and international journals along with facility of digital library provides an extraordinary environment for learning and excellence in education.
In the 21st century, with the progress in medical science people in general are living more years and mortality from infectious diseases has dramatically decreased but the rapid industrialization and proliferation of technology has produced negative effects on our environment resulting into  newer types of non- communicable and lifestyle diseases,  posing  a great challenge to the medical fraternity. The requirement of doctors for treating the sick and doing research to address this newer disease is increasing day by day all over the world including our country.  F H Medical College and Hospital already has so much to be proud of. Striving to excel in the fields of teaching, research and patient-care FH has made a mark as a premier institute working at an accelerated pace continuously at converting new knowledge into tangible health benefits.
Renowned as an institution with a well organized compliment of senior faculty members from all over the country, the learning environment of FH pulsates with the enthusiasm of making collaborative discoveries and innovations in health care, education and research. The students are taught and trained to become zealous medical professionals with the positive competency to shape the fields of science and medicine throughout the world with expertise and passion.
Apart from scholastics, students of FH are also encouraged to take part in numerous extra-curricular activities. Ranging from sports, cultural and oratorical events, the sprawling campus is constantly abuzz with lively social gatherings and programs. Seldom is there ever a dull moment in the hostel and grounds of FH.
At FHMC Medical education does not exist to provide students with a way of making a living, but to ensure the health of the community.
VISION
"To develop outstanding medical skills in medical student and produces good medical fraternity to provide standard health care services to our citizens"
To make the world a better place by generating outstanding health care providers with superior intelligence, high ethical values & moral codes, and give something of value back to the society.
MISSION
The college's mission is to develop knowledge, skills and attitudes that promote professionalism, teamwork, life-long learning, empathy,  scholarship, cultural sensitivity, and leadership, with the goal of  providing excellence in education, health care and research within the   centre of learning and  preparing students for academic pursuits, medical professional training, enhanced personal lives and responsible global citizenship; extending frontiers of knowledge through relevant interdisciplinary Research; fostering an intellectual culture that bridges basic science and clinical practice; contributing to enhance the health of the humanity.

University Name
Dr B R Ambedkar University,Agra, U.P.
Annual Intake (Seats)
150
Permission Date
07.08.2014 30.05.2016 15.05.2017 09.05.2019
Address
Etmadpur Railway Over Bridge, N.H. – 2, Mauja, Teh.-Etmadpur, Agra-283204 (Uttar Pradesh) Agra
Website
http://www.fhmc.co.in/