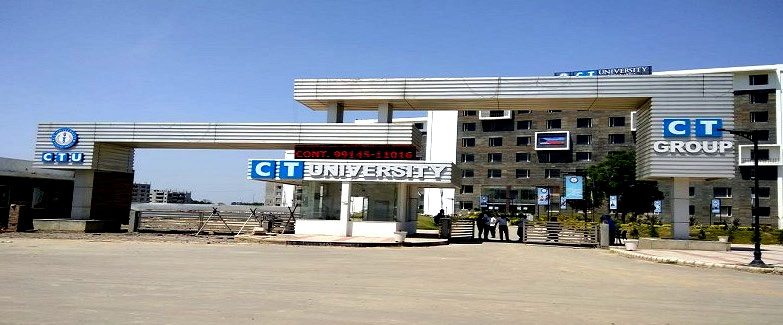 CT University (CTU) strives to provide a technologically advanced, ultra-modern, academically and socially vibrant campus that offers a safe and supportive educational environment for all. CT University is a multi-disciplinary, student-centric, research-focused university offering a full range of academic programs at the undergraduate, postgraduate and doctoral level. CTU's multi-disciplinary curriculum leads students towards a strong foundation in the disciplines of Design & Innovation, Humanities and Physical Education; Hotel Management, Airlines & Tourism; Law; Engineering & Technology; Pharmaceutical & Healthcare Sciences; Management Studies and Agriculture & Natural Sciences while enabling them to gain expertise in their own field. The programs at CTU bear the distinctive stamp of interdisciplinary and research, leading to scholarly publications and creative expressions by its faculty and students.
CTU is one of the Leading Industry Driven University with most of the prominent courses having industry and academic tie ups with EC-Council for Information and Cyber Security Programs, BOSCH for Mechanical and Automobile Engineering Programs, Huawei for Information and Communication Technologies, FORTIS for Healthcare Management and Physiotherapy Programs, Tally for Finance and Accounting and Autodesk for Mechanical, Electrical and Civil Engineering Programs, University of Derby for Student Exchange and Faculty Exchange Programs, EUSAI for Sports Programme, Mendel University in BRNO for Student Exchange and Faculty Exchange Programme and Cambridge University Press, FIEO for International Trade.
CT Institutions, Jalandhar (16 Professional Institutes affiliated to Govt. Universities in Two Campuses) is offering plethora of programmes in disciplines including Engineering, Pharmaceutical Sciences, Architecture & Design, Hotel Management & Airline Tourism, Sciences, Arts, Commerce, Education, to name a few.
Vision:
 
To be a leading contributor towards the world having the best higher education system with transformative impact in research, innovation, creativity and entrepreneurship.
Mission:
Having a revolutionary impact on students by focusing on deep inter-disciplinary knowledge, solving complex engineering problems , leadership, communication and interpersonal skills, personal health and well being. Creating best of educational experience by engaging with partners outside the traditional borders of University campus. Cultivating productive community by attracting and retaining diverse, best talent and such an environment where research, innovation, creativity and entrepreneurship can flourish.  
Diploma Programmes
Under Graduate Programmes
The School of Engineering and Technology mission is to nurture the bright minds and talents by advancing knowledge and educating students in Engineering, Science and other areas of Technology that will best serve in benefitting both science and society. Every student should acquire the attributes to make them successful in life. There are lots of job opportunities for a student. Students will be hired in various roles in IT companies like Software Developers, Hardware Engineering, System Designers, System Analysts, Network Engineers and Database Administrators etc. The growing demand for security has been contributed to students to get job. We provide our flagship program of Cyber Security which is an interesting, thrilling, highly in demand thus highly paid off and match the era. The diverse programs and activities aim at developing quality of mind, ethical standard, social awareness and global prospective. The Educational Model followed at CT University not only helps student in achieving these goals, but also makes the degree acceptable. After doing the program students will be able to work as an entrepreneur.
University Name
CT University - [CTU], Ludhiana
College Status
Recognized
Address
CT University, Ferozepur Road, Sidhwan Khurd – 142024
Website
https://ctuniversity.in/academics/our-schools/school-of-engineering-and-technology/