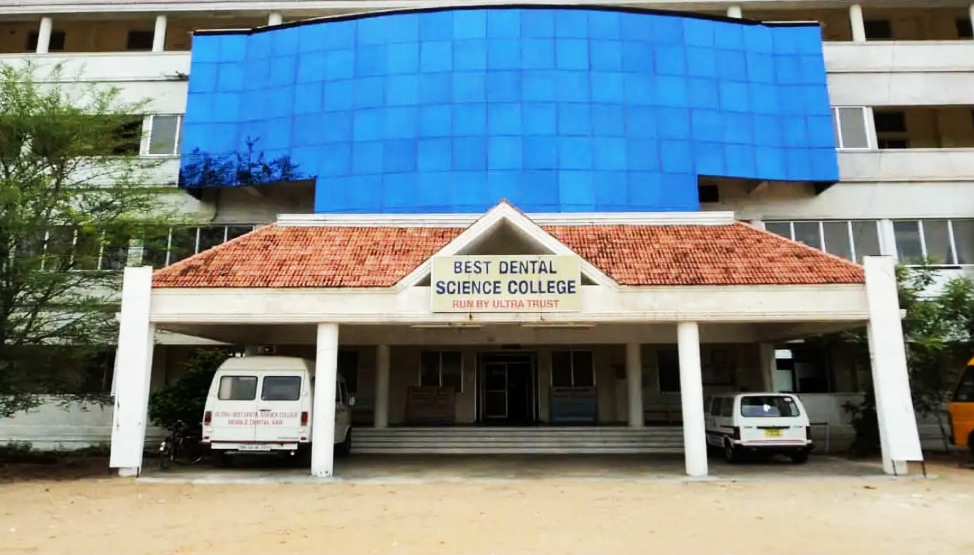 Best Dental Science College & Hospital is recognition by Dental Council of India, New Delhi Affiliated to the Tamilnadu Dr MGR Medical University. Best Dental Science College & Hospital is the realization of the dream of Prof.KR.Arumugam, to set up a world classcenter of higher learning in the historic temple city of Madurai. Established in the year 2007,the avowed objective Best Dental Science College & Hospital, Madurai is to train qualified professionals to shoulder the responsibility of contributing to the development of India as the knowledge society and to provide affordable and modern dental health care to the people of southern Tamil Nadu.
Being conscious of the changing needs in the fields of technology and health sciences, the renowned philanthropist and visionary Sri. Arumugam, guided the destiny of Ultra trust with missionary zeal.
Ultra Trust, with an abiding interest in developing professional educational institutions and with the thirst to improve the life of down trodden people of the rural community, was started in the year 1981. The edifice of this trust stands on the strong foundation values, ideas and rich culture and the credit for all this goes to Smt. AR. RAMAYEE ACHI, Founder settler of this trust.
The Chairman and Managing trustee of Ultra trust, Prof. KR. ARUMUGAM, an academician par excellence, is a dedicative and inspiring personality works hardly to achieve the mission of the trust every moment. The Academician Prof. KR. ARUMUGAM found that the development of human life pattern could be sophisticated by quality education and by amicable service. The trust there fore decided to develop, organize and maintain such educational institutions, which stands out from the crowd of commercial vendors of the education by its infrastructure, faculty, facilities and service.
Mr. A. Babu Thandapani, another trustee is a postgraduate in Pharmacy, is deeply interested in updating the technical facilities of the institution. The trust is endeavored in almost all the faces and edges of pharma profession inclusive of education, community pharmacy, production, dispensing, hospital and clinical pharmacy, etc.
Vision
To lead the field of dentistry in developing and implementing innovative programs that aid in Dental education and patient care.
Mission
To impart quality dental education and provide research facilities for advanced treatments of global standards.

Establishment Year
2007-08
University Name
Tamil Nadu Dr. M.G.R.Medical University
College Status
Recognized
Annual Intake (Seats)
100
Address
69/1 ULTRA NAGAR Madurai, Chennai Hwy, Madurai, Tamil Nadu 625104
Website
http://www.bdsc.ac.in/index.php