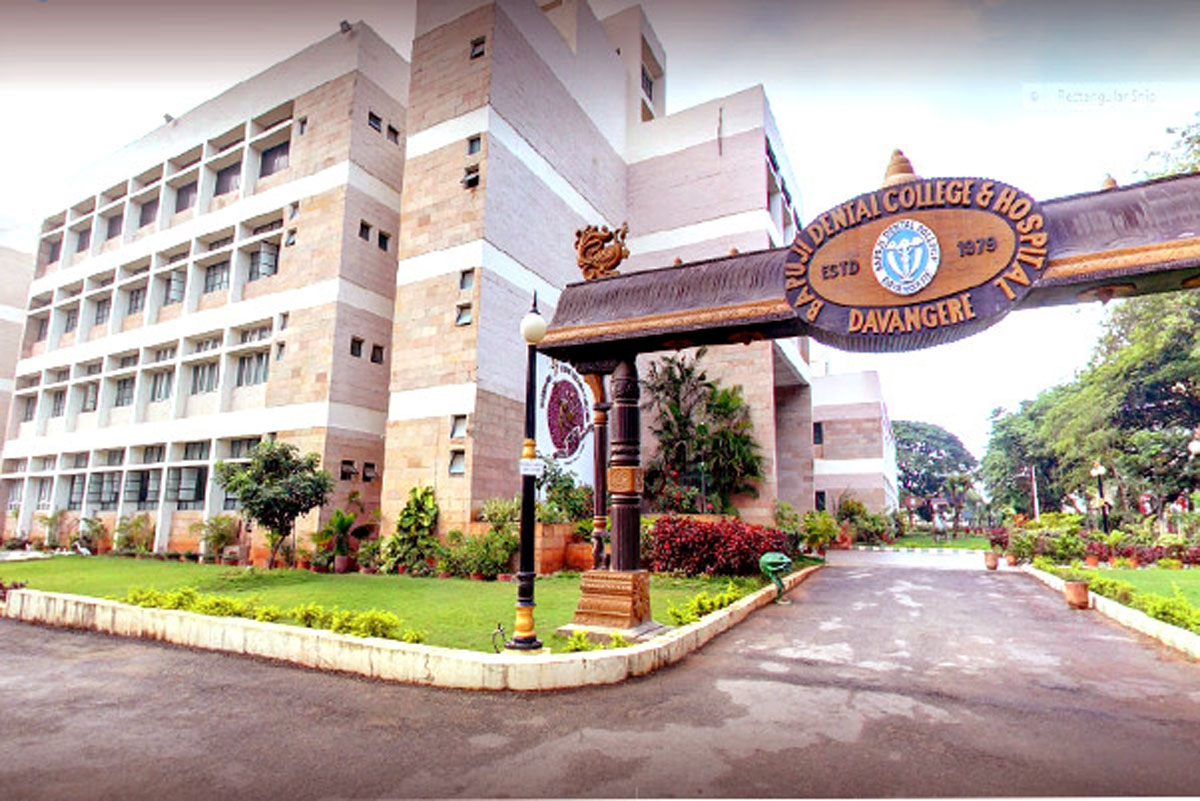 Bapuji Dental College and Hospital Davangere are one of the reputed Private Dental Colleges in Karnataka. The college is popularly known as Bapuji Dental College Davangere and was founded in the year 1979-80. The college is affiliated with Rajiv Gandhi University of Health Sciences, Bangalore, Karnataka and is approved by Dental Council of India, Govt. of India. Now the college has become synonyms with one of the Best Private Dental Colleges in Davangere.
Bapuji Dental College and Research Institute established in the year 1979 was founded by Mr. Shamanur Shivashankarappa is the college that provides dental science courses. It also offers students the best possible clinical education complemented by opportunities in research and community service. It is listed among one of the best dental colleges in Asia. The institution is also known for doing research projects for international companies in the specialty of dentistry.
Fired by the zeal to create world-class institutions, Bapuji Dental College was founded in the year 1979 by Dr. Shamanur Shivashankarappa. Guided by great visionaries in Indian Dentistry, the college has grown by leaps and bounds and celebrated its silver jubilee in 2004. The college is now headed by Dr. K. Sadashiva Shetty, one of India`s leading faces in Orthodontics. He is the transformational guardian in making the college from being one of India`s best dental colleges to that of Asia`s. On July 31st, Dr. K. Sadashiva Shetty retired as the Principal, and was reappointed as the Director.
This college has been one of the most vibrant and dynamic institutions in the field of dental education. It has nurtured thousands of dentists to reach the zenith of their profession. From time immemorial, India has been a Mecca of knowledge, education, and enlightenment. Bapuji Dental College, since its inception in 1979, has made an immense contribution to this legacy. The state of the art institute offers students the best possible clinical education complemented by opportunities in research and community service.
Bapuji Dental College boasts one of the finest lab facilities to impart liberal clinically oriented teaching on par with the best. The freshers are trained in the sophisticated phantom head labs, fitted with 100 dental workstations for pre-clinical training simulating dental treatment. The college is also well equipped with a Ceramic Lab for crown and bridge fabrication to gain technical skills in dentistry.
The college also prides itself on a huge library set with good ventilation and illumination - a perfect setting for avid readers. The library is well equipped with modern facilities and resources in the form of CD-ROM, online databases, video cassettes, books, journals, back volumes of journals, theses, WHO publications, etc. It`s a one-stop resource center for the student from all forms references to printouts and to the binding.
Bapuji Dental College is one of the very few Indian colleges doing research projects for US based International companies like GC International, 3M ESPE(USA), Biohorizons(USA) and the like. Various research projects have been carried out in all the specialties of dentistry and published in respected peer-reviewed journals.
With its grand infrastructure, excellent faculty, and mature guidance, Bapuji Dental College is a reminiscence of ancient Indias educational centers of excellence.  It`s the ultimate destination in India for a student in search of dental educational excellence.
Bapuji Dental College and Hospital, Davangere is a dental college located in Karnataka. It is affiliated to Rajiv Gandhi University of Health Sciences and is approved by Dental Council of India. The college has a private management and established in 1979. Bapuji Dental College and Hospital proudly possesses the complete know-how to prepare learned & well qualified professionals. It offers a five year course in Bachelor of Dental surgery (B.D.S). The college provides good infrastructure facilities to the students. It has spacious classrooms, well-stocked library, Dentures workshop, well-equipped laboratories and clinical dental departments. It also provides hostel facility for both boys and girls which would be fruitful for the students who live outside Davangere city. The town and the Institution are well connected by train and bus and also,

Establishment Year
1979-80
University Name
Rajiv Gandhi University of Health Sciences,Bangalore, Karnataka
College Status
Recognized
Annual Intake (Seats)
100
Permission Date
10 Apr 2017
Address
Post Box No.326, M C C "B"Block, Davangere-577004
Website
http://www.bapujidental.edu/index.php