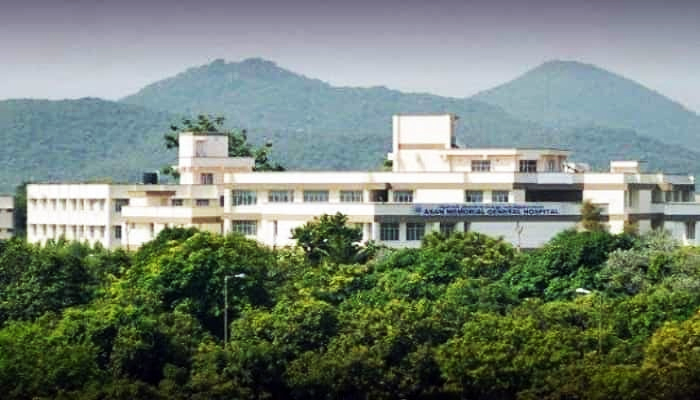 Asan Memorial Dental College and Hospital (AMDECH) was established in 2011. The college is recognized by the Government of Tamil Nadu and the Dental Council of India.
It is affiliated to The Tamil Nadu Dr. M.G.R. Medical University, Guindy. AMDECH is the latest addition to the Asan Memorial Association. Located in Keerapakkam Village at Chengalpattu, the College of Dentistry is surrounded by scenic hills and valleys that are untouched and is absolutely pollution free. Since its inception, the college has provided a platform for students to achieve their dreams and has focused on developments in the field of dentistry for the welfare of people. Conceived with the objective of providing excellent training facilities to produce dentists of the highest caliber, the institute has been able to make this a possibility with the active cooperation of the management and staff alike.
AMDECH is among one of the best equipped dental educational institutions in the country. It offers undergraduate (B.D.S.) courses in dentistry as per DCI/university norms. All departments are adequately furnished with the necessary diagnostic and research equipment. The institution also strives to keep in sync with the changing times and constantly upgrades its facilities, in the interest of patients and students.
Whether you are a prospective student interested in learning more about the dentistry programs, a patient, or a dental professional, AMDECH is a dynamic place where students, faculty and staff come together to share knowledge and skills that will benefit patients.
MISSION AND VISION
 
The mission of Asan Memorial Dental College, Chengalpattu is to prepare students for a career in dental surgery after completion of an intensive 5-year effort on the part of both faculty and undergraduates. Through the training of dedicated generalized dental personnel, the college aims at making an effective contribution to dental education, research and the oral health care needs of the country in general and the community in particular, especially the underserved. The institution's approach to this mission is to:
Equip students with thorough knowledge of dental subjects, while moulding good character and true sense of human value
Inculcate moral values amongst students so as to transform them into doctors who would lead a principled life of honesty and integrity
Attain excellence in dental health education
Serve the oral health care needs of all people particularly the poor and needy with compassion, irrespective of religion, caste or creed
Give special emphasis to community oriented service through training and effective participation of members of the community
Impact advanced procedural skills in various aspects of dental surgery
Advance in research skills and to stay abreast of the latest in dental research and technology
Through these activities, which are described in detail throughout this website, each student who successfully completes the program will acquire the basic knowledge, skills, and judgment to competently practice dentistry.

Establishment Year
2011-12
University Name
The Tamil Nadu Dr. M.G.R. Medical University, Guindy
College Status
Recognized
Annual Intake (Seats)
100
Address
Asan Memorial Dental College and Hospital Asan Nagar, Orgadam Road keerapakkam Thaluk, Chengalpattu, Tamil Nadu 603105
Website
https://www.amdech.com