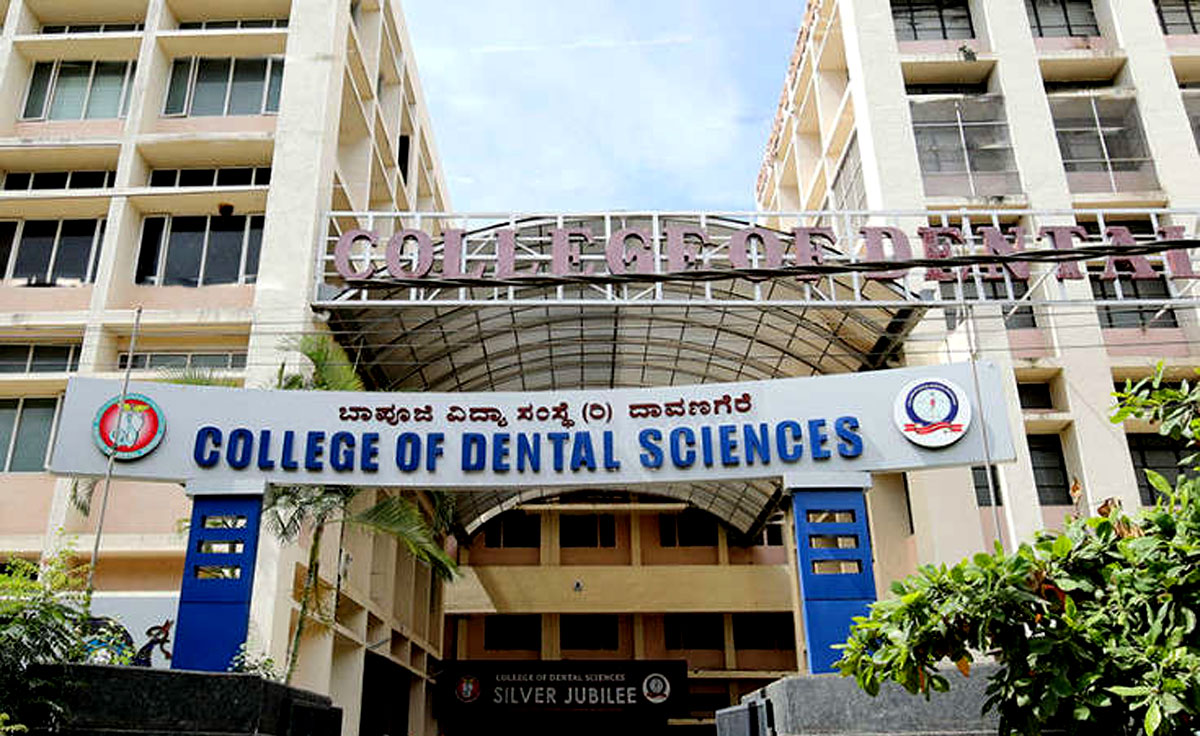 Davangere, the heart of Karnataka has history of 1200 years geographically, historically, culturally, socially, linguistically and politically. It is a unique place in Karnataka. It is situated at an altitude of 602.6 meters above sea level. The temperature throughout the year ranges from 25 to 35 degree Celsius. It is situated on golden quadrangle of NH-4 and is well connected to different parts of the country by train and road.
History dates back to 1000 A.D. when Baithur was the capital of the Hoysala and Pallava Empire, the name Davangere may have evolved from the word Devana-Kere (Devana-Leash, Kere-Reservoir). It was also called Deva-Nagari as it was one of the biggest townships of the empire. Time eroded its popularity till the advent of the Second World War when Davangere became the shelter for many enterprising businessmen.
College of Dental Sciences, established in 1991 has shown an excellent academic achievement in a short span of time under the able leadership of Principal Dr. Vasundhara Shivanna & Director Dr. V.V Subba Reddy. College of Dental Sciences offers opportunities you would not find anywhere else. This is an institution involved in rich amalgamation of scientific enquiry and comprehensive dental care service. At this institution we believe in educating the students to develop a good relationship between patient and doctor, efficiently manage a dental office, design a good treatment plan and utilize the state of the art materials and techniques. Our goal is to supplement the existing pool of dental and medical knowledge with an intention to promote public health. We strive to educate dentists with a broader vision who will play a leading role in oral health care in the next millennium. The college has a faculty with expertise, many of whom are recognized authorities in their respective field. The staff is especially committed to clinical training, working extensively and intensively with students on one - to - one basis for total patient care. The teaching and hospital facilities at college of dental science are accommodated in two interconnected buildings, which are situated inproximity to the J.J.M Medical College, Bapuji Hospital and Chigateri General Hospital. This proximity and the reputation of our institute ensure a large flow of patients with wide ranging pathological conditions and an inter specialty management of these patients exists.
Each department is spaciously designed to accommodate separate undergraduate and postgraduate clinics, laboratories, seminar rooms and patient waiting lounges. Five lecture hall (seating capacity of 100 each) and a seminar hall (Seating capacity of 250) serve the regular teaching and continuing education programs.
College of Dental Sciences, Davangere (CODS Davangere) was established in 1991. the College of Dental Sciences is one among the 2 premier dental college below the umbrella of Bapuji instructional Association. The College is Affiliated to Rajiv Gandhi University of Health and Sciences, Bangalore (RGUHS), Karnataka and is recognized by Dental Council of India (DCI). The College is operated and managed by Bapuji instructional Association that was shaped in 1958. College of Dental Science Karnataka provides education within the field of dentist, at multiple levels. The College has the excellence of beginning the primary evidence- based mostly medicine center in India.
ollege of Dental Sciences Davangere is one of the reputed Private Dental Colleges in Karnataka. The college is popularly known as CDS Davangere and was founded in the year 1990-91. The college is affiliated with Rajiv Gandhi University of Health Sciences, Bangalore, Karnataka and is approved by Dental Council of India, Govt. of India. Now the college has become synonyms with one of the Best Private Dental Colleges in Davangere.

Establishment Year
1990-91
University Name
Rajiv Gandhi University of Health Sciences,Bangalore, Karnataka
College Status
Recognized
Annual Intake (Seats)
100
Permission Date
10 Dec 1991
Address
P.B.NO.327, PAVILLION ROAD, DAVANGERE,DAVANGERE, 577004
Website
http://www.cods.edu/